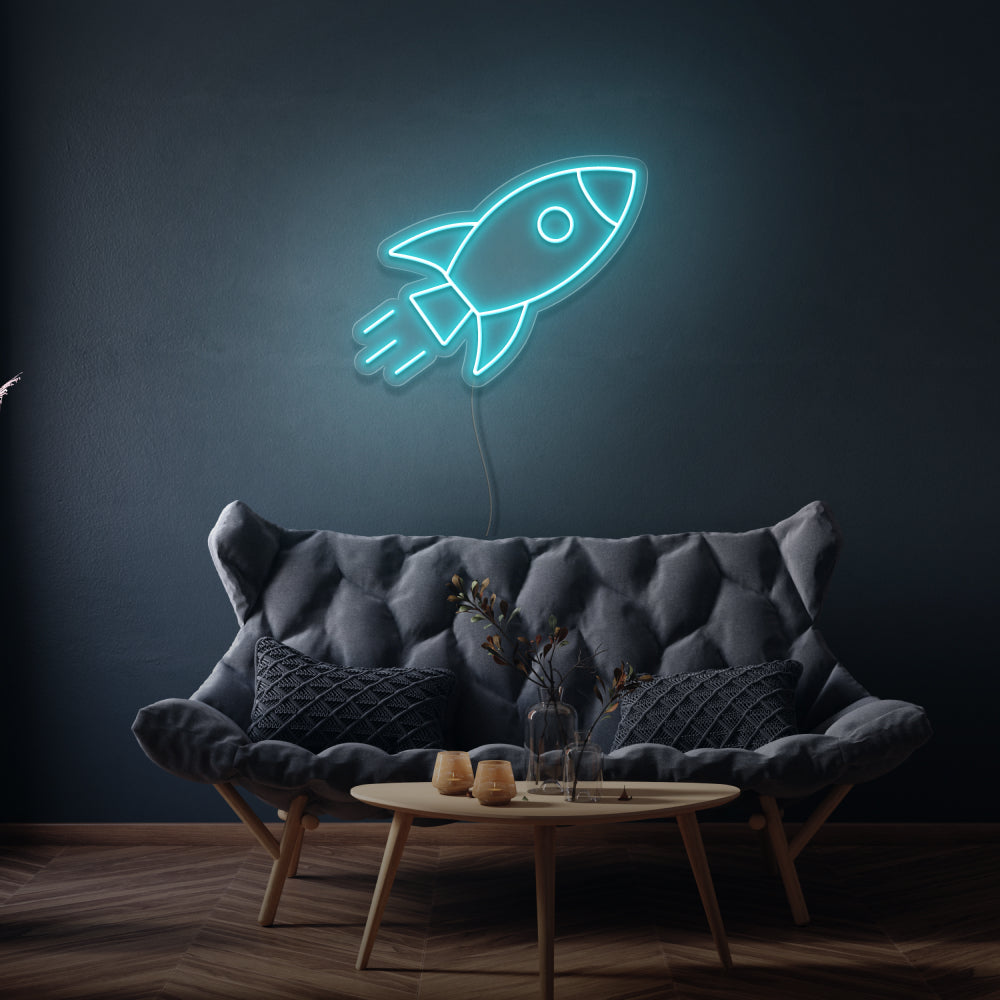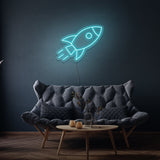 Rocket Neon Light
Planet Earth is a pretty amazing place, and we wanted to show our appreciation by creating the Rocket Neon Light. It's out of this world! (Sorry, we had to.) This hand-blown neon light is perfect for anyone who loves space or just wants a funky addition to their home décor. Whether you're using it as a nightlight or just accent lighting, the Rocket Neon Light is sure to impress. It comes with an AC adapter, so you can plug it in right away. You might even be able to see the Milky Way with this thing on!
What's Included

Each of our neon signs is custom-crafted on an acrylic board, boasting a lifespan of over 100,000 hours.

They come equipped with a universal 12V transformer, ensuring compatibility with power outlets worldwide. Opt for an elegant remote control to adjust brightness, available as an optional add-on.

Note: Multicolor (RGB) neon signs automatically include the remote, with its cost already factored in. Rest easy with our 1-year warranty on all signs, and enjoy effortless installation thanks to the included wall-mounting kit.

Production & Delivery

Crafting our signs typically takes 1-2 days, influenced by the design's intricacy and dimensions. We pledge to have your order at your doorstep within a maximum of 2 weeks. For expedited shipping needs, please reach out via email or chat for more information.
Custom Neon Craftsmanship
Every one of our neon signs is a work of art, tailored just for you. With options to customize every aspect, your perfect custom neon light is just an order away.
Plug & Shine
Every custom neon sign comes equipped with a 4.9 ft transparent cord and a specialized adapter. Different country? No worries, specify your needs at checkout.
Delivered to Your Doorstep
Our neon lights are crafted and shipped to you within 3-5 weeks under standard delivery terms. In a hurry? Opt for 'Rush My Order' for faster shipping within the USA and Canada.
Hang with Ease
Designed for seamless integration into your space, our custom neon lights come mounted on clear acrylic, making installation a cinch right out of the box.
Durability You Can Trust
Using advanced LED neon flex technology, our custom neon signs are not only brighter but also more durable than traditional glass neons. Plus, each comes with a two-year manufacturer's warranty.
Illuminate on Demand
Enhance your neon sign experience with our optional remote control. Power on/off, adjust brightness, or set dynamic lighting effects as you see fit.
Energy-Smart Luminance
Our neon lights are a blend of efficiency and unmatched radiance, promising sustainable brightness for over 100,000 hours.
Vivid Neon Brilliance
Powered by the latest in energy-efficient technology, our neon signs stand out with a palette of striking colors, ensuring they remain the centerpiece of any setting.